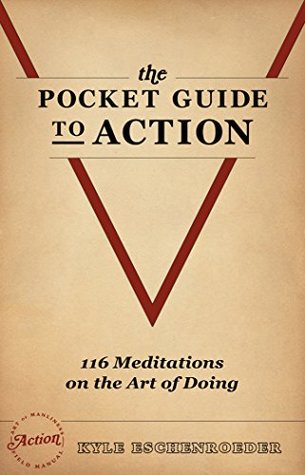 Book: The pocket guide to action by Kyle Eschenroeder
This book lists a hundred reasons to act, like removing paralysis, learning, making it easier, creating opportunities, or stress-relieving.
Personally, I made a habit to act immediately. I look for the smallest, fastest, and easiest tasks. I remove everything that blocks me. Action helps to get over paralysis by analysis and other invisible thinking traps.
Main ideas:
Act to create positive
Act to learn
Genius is the ability to put in effect what is in our minds.
Action brings facts, which bring clarity.
Act to test theories.
Failure brings experience, strength, knowledge, relationship.
Action is worth much more than thinking without doing.
The more experiments, the better.
The knowledge that comes from action is more vivid and lasting.
Action will bring you your uniqueness. You can think the same, not execution will always be different.
Act to make it easier
Action will make you more resistant, pain-tolerant.
Action train your courage, which will be your base level in a hard time.
Action build momentum.
Action shows what we are capable of.
Action is your tool to express your mind. It will be bad at first. But after practice, your tool will be sharp and your real-world creations will be more defined.
Greatness requires long practice.
Einstein said, "I'm not so smart, I just stay with problems longer".
Act to create your chance
Act to conquer chance.
Action creates unexpected opportunities.
Act to remove negative
Act to remove paralysis
Don't look for your passion. Act and your passion will appear.
Bad questions lead to paralysis. Life is more about action than purpose.
Act even if you can explain, it's better than trying to explain them.
The need to know everything, to have complete information, leads to inaction.
Act to avoid pain and wasted energy
Non-action leads to frustration and exhaustion.
Don't wait for motivation to act. Action motivates.
Success requires much more action than visualization.
Overthinking deplete you of the energy that could be used to act.
You can't waste time by acting, because even in the worst case you learn.
Don't take the door that says "door to book to heaven", take the "door to heaven".
Taking initiative is much rarer than the resources required to act.
Act to relieve stress, fears, and anxieties
Inaction can come from the fear of rejection. But action will attract everyone else who admires you for getting over your fears.
Action tame fears.
Act to compensate for your insecurities.
It's about how hard you can get hit and keep moving forward.
Repetitive, mechanical actions calm stress.
Stress is like mosquitos, as soon as you stop moving, they find you.
Action helps you refocus from failure to learning.
How to act
Get around roadblocks.
Watch out to not aim too big, that leads to inaction and justifies failure.
Instead of asking "why" ask "why not".
Act as if you had to.
Stay hungry to act.
To build a minimum viable product, remove any feature, process, or effort that doesn't contribute directly to the learning you seek.
You only need 2 weeks to test the vast majority of things.
Forget about your probability of success, it hides all the benefits of failures.
Don't consider if you "should" or if you are "ready" to do the right action.
Start with a single habit. Practice until you do it without thinking. Then move to the next habit.
Patience, meditation, reading, or visualization can be action IF they bring solutions, not push back action.